I'm beyond THRILLED to announce that I'm the Guest Designer for the Lawnscaping Challenge blog for the month of August! (Wow, August already?! I can't believe it!)
And, it being August means Back to School for a lot of kids (including mine in 2 weeks – yikes!). So the theme this month for the Lawnscaping Challenge is Back to School!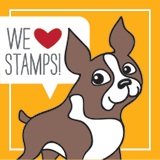 I created a bookmark for my daughter who LOVES to read, (my first baby of 4) and is starting 11th grade (I can not tell you how fast this is going – she's 16 and I can't believe it!). Even though most of her reading is done on electronics these days (sort of sad!), she occasionally does still need a bookmark for a good old fashioned traditional book 😉
I
used these
Lawn Fawn
products:
Have a wonderful week, Crafters!
PLEASE READ!!!! IMPORTANT!!!!! To play along and be qualified for the prize, you must do the following:
• Create a NEW PROJECT based on the challenge, link our challenge AND inspiration photo to your post and add your direct link to your post or online gallery to the Inlinkz below.
• TURN OFF WORD VERIFICATION
• You many combine a total of 3 challenges with your entry as long as the other challenges are not the same theme as ours. You may enter the challenge a maximum of 3 times!
• You have until Wednesday, August 27, 2014 to submit your entries!
You are also welcome to upload your entries to the 

Flickr group

! The Spotted and Hearted Patrol checks Flickr regularly, hint hint! 🙂
————————————————————————–
I'll be entering this project into the following Challenges:
————————————————————————–